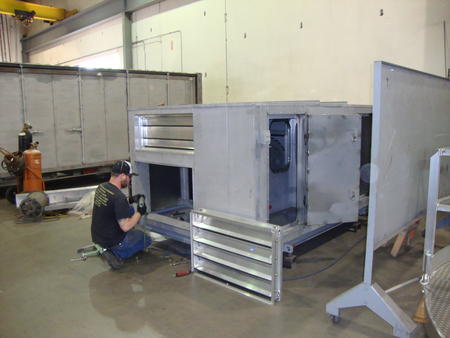 Precision steel fabrication, superior production, and exacting industry standards: these are the guiding principles for Tri-Metal Fabricators, one of B.C.'s longest established and versatile steel fabricator and sheet metal companies.
Tri-Metal Fabricators produces a broad range of standard and custom products for the oil & gas, medical, mining, pulp & paper, military, marine, and emergency services industries including mechanical systems, air handling and fan systems, and marine HVAC systems. Proprietary product offerings include axial and centrifugal fans, sound attenuation systems, dampers, and vents.
The company delivers innovative solutions backed by unmatched customer service and has developed a proven track record for delivering guaranteed quality, design excellence, fast turnaround, and unmatched support to an international client list.
Tri-Metal Fabricators' full-scope design, engineering, and fabrication services combined with a dedicated team of skilled craftsmen means successful solutions to unique challenges within the most demanding deadlines and to exacting standards.
Joe Toso, President
Joe Toso brings to Tri-Metal Fabricators more than 50 years experience in the metal trade and manufacturing industry–46 at Tri-Metal, and 25 as vice-president, president, and owner. He completed his metal fabrication and drafting apprenticeship programs in France, studied estimating at BCIT, and Welding Supervision with the Canadian Welding Bureau. Toso is a SMACNA-BC board member, and served on SMACNA's national board for a four-year term. He is a twice-president of SMACNA-BC and has been leading labour negotiations for the sheet metal industry for the past 10 years.
Joe continually strives for excellence and industry leadership, focusing his business strategy on providing high-quality service, and pursuing a "fix first, ask questions later" philosophy to help build long-term relationship with customers. He is always looking to reach higher levels of technology in the manufacturing industry and to access new markets to maintain and secure the future of Tri-Metal Fabricators.
Craig Ono, Manager HVAC and Fan Division
Craig has been with Tri-Metal Fabricators for 28 of his 31 years in the industry. He graduated from BCIT's mechanical technologist program and strives to cultivate a quality company culture. He brings loyalty and innovation to the table while supporting Tri-Metal's goal to achieve excellent customer service and long-lasting products that are unparalleled in the industry.
Steve Eden, Manager Fan Division
Steve brings a strong sense of leadership and commitment to Tri-Metal Fabricators, where he has spent all 32 of his years in the sheet metal industry. His area of expertise is fans and custom fabrication—he is currently engaged in expanding the company's on-site fan service. Steve brings a strong sense of leadership and company loyalty to the team and remains driven to provide the best in customer service.
Fran Jackson, Office Manager
Fran has spent 33 years ensuring the Tri-Metal Fabricators office runs smoothly and efficiently. Whether she is drawing up payroll, preparing complex fiscal end reports, or simply being the friendly voice on the other end of the phone, Fran maintains her position as an essential part of the company's operations.
Pat Toso, Head of Purchasing
Pat started with Tri-Metal Fabricators in 1989 on the floor working in assembly in the fan division. In 2000, he moved into the office as a purchasing representative and later, oversaw shipping and receiving. Pat trained internally, bringing to the company a sense of commitment and thorough knowledge of its operations and potential. He demonstrates dedication to the company, ensuring quality service and a strong commitment to growth.
Telephone

(604) 531-5518

Address

19150 21 Ave. Surrey BC. Canada V3Z 3M3
Joe Toso, President

(604) 531-5518 Ext. 229

Craig Ono, Manager

(604) 531-5518 Ext. 233

Steve Eden, Manager Fan Division

(604) 531-5518 Ext. 234

Pat Toso, Purchasing Agent

(604) 531-5518 Ext. 232

Fran Jackson, Office Manager

(604) 531-5518 Ext. 224